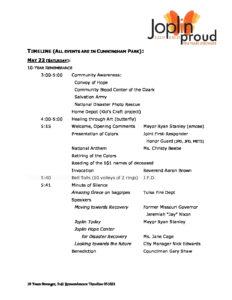 Saturday, May 22 Remembrance Ceremony at Cunningham Park
(other Saturday events listed in timeline below)
Ceremony Opening – 5:15 – 6:30 pm
Come to Cunningham Park to honor those we lost, commemorate our recovery, and look forward to the future.
Our agenda includes:
Presentation of Colors
National Anthem
Reading of the 161 Names of the Deceased
Invocation – Pastor Aaron Brown
Tolling of the Bells at 5:40 pm by the Joplin Fire Department
A Moment of Silence at 5:41 PM
Amazing Grace played by the Tulsa Fire Dept Bagpipe Band
Remarks by Former Missouri Governor and Friend to Joplin – Jeremiah "Jay" Nixon
Remarks by Mayor Ryan Stanley, Ms. Jane Cage, City Manager Nick Edwards
Thursday, May 20
Third Thursday – Downtown Joplin, 5 – 8:30 pm
Come downtown for an evening of music, food, art, shopping, local artisans, kids activities, and lots of community fun! It all begins at 5 pm!
Friday, May 21
26th Street from St. John's Blvd. to Maiden Lane will be closed beginning at 2:00 PM Friday through Saturday evening.
Joplin Memorial Run Expo – 4 pm – 7 pm
Runner Packet Pick-up, Food Trucks, 161 Memorial flags on display along the park path
There will be live music by Dance Monkey Dance from 4:00 pm to 5:45 pm. There will be recorded music from 5:45 pm to 7:00 pm.
Saturday, May 22
Joplin Memorial Run – 6:30 am
The run begins and ends at Cunningham Park.
Community Awareness – 3:00 – 5:00 pm
Support organizations who assist in disaster response and recovery will provide preparedness information: Convoy of Hope, Community Blood Center of the Ozarks, Humane Society, Salvation Army.
Wings of Strength: Family Healing, Creating and Sharing – 3:30 – 5:00 pm Cunningham Park
Recognizing the powerful transformation of the butterfly and with a nod to the Butterfly People from 10 years ago, Joplin Proud is hosting a family event just prior to the afternoon's ceremony of remembrance.
Kids, bring your family to the tent at Cunningham park and join us as we craft butterflies with markers, pipe cleaners and coffee filters! This quick craft is suitable for all ages and will produce 161 + butterflies that will then be used to decorate the event stage as a visual memorial to those who lost their lives in the tornado and as a symbol of transformation for Joplin. Volunteers will be standing by to assist you in creating your butterfly and you'll even get supplies to take home so you can make another butterfly just for you.
Thank you to Wal Mart for their sponsorship of this event and to AmeriCorp for volunteer assistance, along with craft committee volunteers Peggy Fuller, Cameo Harrington, Ann Leach, Robin McAlester, Gayle Sawyer, and Whitney Warren
Food Trucks – 10:00 am – 7:00 pm
Smack Dab, Kona Ice, Between the Buns